Are you planning to purchase a brand new TV? Plan to upgrade from old TV with the latest models this year? Looking for a guide to help you pick the best TV for your money? Then you've come to the right place. We listed down the best 43 Inch UHD TV on the market. The ones we selected offers the best value for your money and those that feature the latest technology in the TV industry.
So without further ado, check out our list of best 43 inch 4K UHD Smart TV for the year 2019.
Bestsellers:
Best 43 Inch UHD TV 2019 – Top 43 Inch 4K TV 2019
Toshiba U6763DB 43-Inch 4K UHD Smart TV
Read Our Review of Toshiba 43U6763DB
The Toshiba U6763 UHD Smart TV is a popular model for its affordability with its features. Its picture quality is superb. Thanks to the combination of VA panel, HDR, and Direct LED Backlight. Enabling this TV to produce 16.7 million colors with a local dimming like performance.
Gamers will also love this TV. With an input lag rating of 38 ms and a refresh rate of 60 Hz, this is definitely one of the best affordable gaming TV.
Key Features:
---
Toshiba U5766DB 43-Inch 4K UHD Smart TV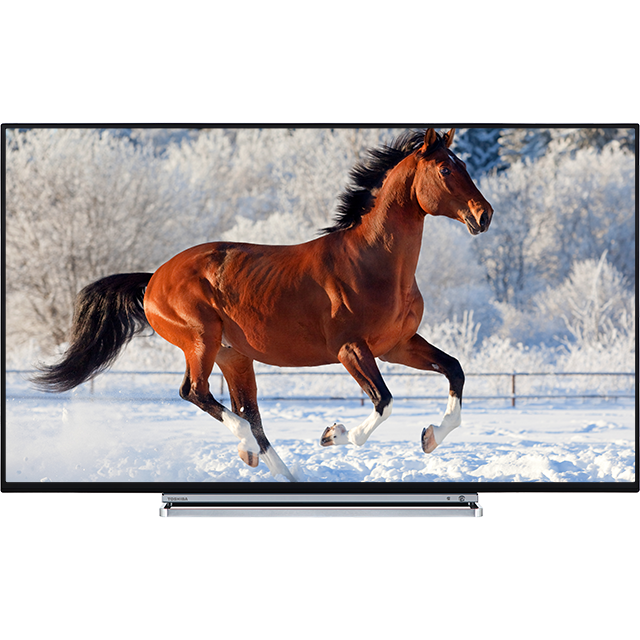 Read our Review of Toshiba 49U5766DB
In terms of performance and quality, this TV offers similar performance to the Toshiba U6763. You can even say that there's actually no noticeable difference. But on a closer look, the U6763 model is slightly superior in terms of features but in terms of picture quality, both are very similar in every way.
In terms of gaming, this TV also has similar performance. With an input lag rating of 38 ms and a refresh rate of 60 Hz, you can definitely expect the same performance.
Key Features:
---
LG 43UJ630V 43-Inch 4K UHD Smart TV
Read our review of the LG 43UJ630v/UJ6300
If you're looking for the cheapest 4K Ultra High-Definition Smart TV with HDR, then the LG 43UJ630V or UJ6300 in the U.S. is the one that you want to look for. This TV is probably the best entry-level TV of 2017. The combination of IPS panel and direct LED backlight gives a superb picture quality. The support of active HDR truly makes a difference. Drastically enhancing the picture quality.
For gamers, this is also probably the best entry-level 4K UHD TV for gaming. With a 14 ms input lag rating, that's by far one of the best input lag ratings we have seen on a TV. The 60 Hz refresh rate is of standard and we can pretty much see this kind of refresh rate on any TVs today.
Key Features:
---
LG 43UJ750V

43-Inch 4K UHD Smart TV
Read our review of the LG 43UJ750V/UJ7500
The LG UJ750V is a great 4K TV. It features HDR, 4K, IPS Panel, Ultra Luminance, and Local Dimming. It has an excellent picture quality and probably the cheapest LG TV that features local dimming.
Audio quality is excellent too. It gets the job done with its built-in 2 CH 20 W speakers.
Key Features:
---
Philips 43PUS6262/05 43-Inch 4K UHD Smart TV
Read our review of the Philips 43PUS6162/12
The Philips 43PUS6262 is definitely an ultra-cheap 4K LCD TV. It features support for HDR, Micro Dimming, Picture Plus UHD, and its killer feature – the Ambilight.
This model has everything that any savvy modern TV buyer should be looking for. It has streaming services and a Freeview Play tuner. In addition to that, Philips ensures all the main catch-up services are available such as BBC iPlayer, BBC News & Sport, ITV Hub, All 4, Demand 5, as well as UKTV Play. The overall user experience is mostly positive.
Key Features:
---
Sony Bravia KD43XE8004 43-Inch 4K UHD Smart TV
The Sony Bravia XE8004 is a good 4k smart TV with decent picture quality for an LED TV. It has a wide viewing angle and can display a wide range of colors with very smooth gradients. It also has low input lag, making it a good gaming TV. Unfortunately, its blacks lack depth, and they'll often appear blotchy in a darker environment or rooms making the TV less suitable for such setting.
With Triluminos display, you can expect a vibrant and vivid color through all-out its image reproduction.
Key Features:
---
Hisense H43N5700UK
Read our review of the Hisense H43N5700
The Hisense N5700 basically has all the basic features that you will look from a 4K Ultra HD TV. Such as HDR support, 4K Upscaling, Smart TV, and all that goodness that you can get from a typical 4K Smart TV. Furthermore, the TV uses VA panel allowing it to produce amazing picture quality with a wider color range. The uniformity of the brightness and lighting is also admirable.
If you want an affordable TV that offers 4K, VA Display, and HDR in one TV then this certainly is a strong option to consider.
Key Features: