HDMI Forum, Inc. has officially announced Version 2.1 of the HDMI® Specification last November 28, 2017. This latest HDMI 2.1 Specification supports a range of higher video resolutions and a unique refresh rate called "Variable Refresh Rate" or VRR.
This also includes the support of the 8K resolution at 60 frames per second as well as the support for the 4K resolution at 120 frames per second. This new version of HDMI can support resolution up to 10K as well as Dynamic HDR formats thanks to its massively improved bandwidth capability of 48Gbps.
Bestsellers:
According to HDMI Forum, Inc., brands that have access and are licensed to use HDMI 2.0 will have access to HDMI 2.1 without any additional requirements to license agreement. HDMI 2.1 is also set to be released and be seen on 2018 TV models. That means 2017 and older television models will not have HDMI 2.1.
The introduction of HDMI 2.1 is definitely a step to a wider market for bigger resolutions. Currently, HDMI 2.0 is limited to 4K resolution at 60 frames per second or "4K@60" due to its 18gbps maximum bandwidth but HDMI 2.1 has a maximum bandwidth of 48gbps that paves a way to support 10K resolution running at 120 frames per second at maximum.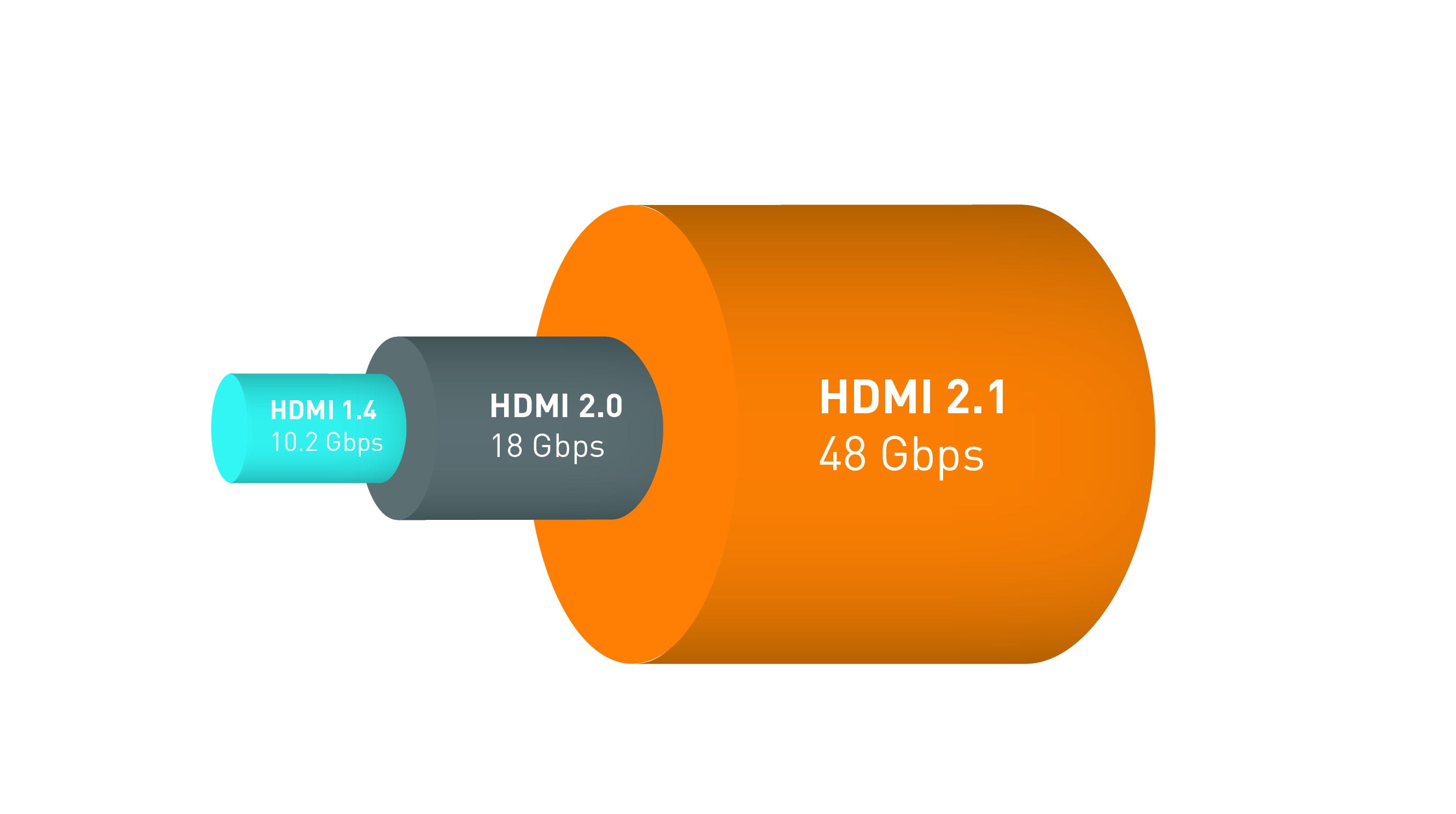 So the impact of HDMI 2.1 to future TVs is truly significant. We can expect to see 2018 TV models featuring this new HDMI specification with a native screen resolution of 8K. Though we should also expect a hefty price to pay for the newer and latest models that have this. But given the trend of technology and the market, like usual which happens every year, we can also expect affordable ones to appear in the last quarter of 2018.
Do I need A New HDMI Cable for Version 2.1?
The fast answer is yes. According to HDMI Forum, Inc., you'll need a new HDMI cable if your TV features HDMI 2.1. This cabled will be labelled with "Ultra High-Speed HDMI"".
The cable ports will still be the usual HDMI ports so HDMI 2.1 is backwards compatible but if you want to utilize, which you should, this version of HDMI, then you must use the appropriate HDMI cables. Otherwise, you will not be able to use the features of HDMI 2.1 if you're using your old HDMI 2.0 or 1.4 cables.
Are HDMI 2.1 Cables Available Already?
We checked Amazon UK if they have any listings of the latest Ultra High-Speed HDMI Cables that supports that latest HDMI version of 2.1 Fortunately, we found one from Belkin.
Do Gaming Benefit from HDMI 2.1?
One of the latest features of HDMI 2.1 is called "Variable Refresh Rate" a.k.a "VRR" as well as "Quick Frame Transport" a.k.a. "QFT". Basically, Variable Refresh Rates synchronizes the refresh rate of your monitor to your gaming system whether its a PC or a Console for that smooth gameplay experience preventing tearing and stuttering gameplay.
Quick Frame Transport (QFT) on the other hand is designed to reduce latency increasing the responsiveness of the TV or monitor for that smoother no-lag gaming, and real-time like interactive virtual reality. If VR is your thing that is otherwise, it's still a welcome feature for all gamers.
What is HDMI 2.1 Dynamic High Dynamic Range?
The new HDMI 2.1 Specification will also bring the "Dynamin HDR" into the table. Basically, the new specification will ensure that when you're watching a video, every moment of that video will be displayed at its ideal values for depth, detail, brightness, contrast and wider colour gamuts—on a scene-by-scene or even a frame-by-frame basis which is a fantastic addition.

With the release of HDMI 2.1, 2018 will surely be another great year for technology as well as for televisions. We can expect to see TV models featuring 8K as well as 4K Smart TVs that feature the latest technology and picture enhancement technology. Models that exceed their predecessors in terms of performance and design as well as value.
Belkin ultra high speed HDMI 2.1 cable, 4K/Dolby Vision HDR, optimal playback from Apple TV, 2 m - black
Dolby Vision Compatible: HDMI cable enables enjoying high dynamic range (HDR) and wide colour image technology for a new level of depth and realism; experience images on your screen like never before
Reliable Connection: Delivering a faster refresh & eliminating motion blur for the best possible viewing experience; two-layer shielding minimizes interference; simple plug-and-play solution
Future-ready: HD HDMI cable is prepared for Dolby Vision and more; future-proof your home entertainment with a durable cable that's ready for tomorrow's audio and video generation
Ideal Length: 2m long cable was designed to fit seamlessly into your home environment with perfect length to connect your laptop or streaming device to your UHDTV setup
Compatibility: HDMI supports 4K HDR (Dolby Vision and HDR 10), transfer speeds of up to 48Gbps; optimal viewing experience for Apple TV 4K and also compatible with any other HDMI-enabled device