Looking back at 2017, the Samsung MU8000 was a very popular TV back then. It is still a capable 4K Ultra HD LED TV. Offering good picture quality no matter what content or source you feed it with. Furthermore, it supports latest features such as HDR. The only thing that made the MU8000 miss the spot to perfection is its mediocre colour gamut and the degradation of the picture when viewed at an angle.
Now that it's 2018, Samsung has replaced the MU8000 with NU8000. Will this model address the issues of the MU8000? Let's find out!
Bestsellers:
Samsung NU8000 Smart 4K UHD TV
Specification:
Samsung 8 Series Model NU8000
3840 x 2160, 4K Ultra HD
4K HDR Plus
Supreme UHD Dimming
60Hz Refresh Rate | 120Hz Refresh Rate
120 Motion Rate | 240 Motion Rate
Edge-LED Backlight
VA Display Panel
10 bits (8 bits + FRC)
0.279 mm Pixel Pitch
HDR10 | HDR10+ | HLG
Tizen 4.0 OS
2.1 CH Down Firing + Front Firing 40W (10W x 2, Woofer 20W) Speakers
2x USB 2.0 | 4x HDMI 2.0
Built-In Wi-Fi
UHD Remastering Engine
Quad-Core Processor
SmartThings app Compatible
Samsung OneRemote
360° Design
Samsung Clean Cable Solution
Design
The Samsung NU8000 4K UHD Smart TV is the brands latest model for their 8-Series and is the successor of the 2017 Samsung MU8000 4K UHD TV which was very popular back then. Most of the design and aesthetics of the TV remained the same. The design for the NU8000 is still based off of Samsung's 360 Degrees Seamless design. It still has that clean back finish that gives a gorgeous overall design front to back. The only changed we seen so far is the stand and the lower bar of the TV.
Furthermore, the VESA support has been changed as well from MU8000's 400 by 400 to 200 by 200mm for the 49-Inch variant but bigger size will have 400 by 400mm.
Looking at the back, Samsung seems to have decided to bring back the I/O at the back of the TV. With the 2017's MU8000, Samsung included a separate box that has all the I/O of the TV and it's called One Connect Box Mini.
Now with the Samsung NU8000, the I/O has placed back at the back of the TV again. It seems that this scheme of Samsung didn't much work for them. Although, Samsung did some upgrade to it by including their "Samsung Clean Cable Solution" feature.
This feature allows you to easily hide and manage the cables at the back of the TV. Making your setup a cable clutter neatly free.
The Samsung NU8000 still features a bezel-less design where 93.38% of the front area is the display.
Picture Quality
The picture quality of the Samsung NU8000 is actually quite good. We do seem some improvement over the MU8000. The Samsung NU8000 has a wider colour gamut than its predecessor, the MU8000. Furthermore, it features Samsung Dynamic Crystal Colour technology.
Enabling this TV to have millions of additional colour shades the really makes a difference. Lastly, the HDR plus enables the TV to produce more colours with depth and enhances the vividness of it.
Unlike the MU8000, the NU8000 now features HDR10+. This technology enhances the picture quality with a wider range of brightness and contrast. It also optimizes every scene for a better picture quality and better HDR experience.
HDR10+ provides for scene-by-scene adjustments for the optimum representation of contrast from the HDR source content.
The Samsung NU8000 also features Samsung's Ultra Slim Array. This technology controls the display's lighting by making dark zones of the screen darker and bright objects even brighter.
The motion handling is also quite better too. However, it seems that Samsung did not address the issues we have seen with MU8000. The Samsung NU8000 is also suffering from colour degradation when viewing at an angle.
Audio
The Samsung NU8000 features a 40W 2.1 CH built-in front and down-firing design which is quite the same with the Samsung MU8000, its predecessor. Like the MU8000, the audio quality of Samsung NU8000 also produces a boomy sound. This is probably due to having too much bass which ends up reducing the clarity of speech. Eventually causing it to sound boomy.
Gaming
In terms of gaming, the Samsung NU8000 recorded a staggering 12ms input lag which is amazing. Making this TV an ideal gaming TV for all platforms and even for competitive gamers. It also supports a native resolution of 60Hz thus enabling you to enjoy 4K@60fps if your gaming system allows.
The Samsung NU8000 is a great TV for HDR gaming as well. The picture quality is great and has very little motion blur. Furthermore, this TV supports chroma subsampling for clearer text. Thus like the MU8000, the NU8000 suffers from degradation when viewed at an angle.
Samsung NU8000 vs Samsung MU8000
If you're wondering what's the main difference or what changes did the Samsung 8-Series 2018 4K UHD Smart TV got, here's a side by side comparison between the Samsung NU8000 and the Samsung MU8000.

Brand
Samsung
Model
NU8000
MU8000
Available Size
49, 55, 65, 75, 82
HDR10+
Yes
No
VESA
200 x 200 | 400 x 400
400 x 400
OS
Tizen 4.0
Tizen 3.0
Speakers
40W 2.1 CH Down Firing
+ Front Firing
40W 2.1 CH Down Firing
+ Front Firing
I/O
2x USB 2.0
3x USB 2.0
Features
4K HDR Plus
Anynet+
Auto Motion Plus
Digital Clean View
Dynamic Crystal Clear
Extended PVR
HDCP
Light Sensor
Pip
Supreme UHD Dimming
UHD Engine
Upscaling
Voice Command
4k Colour Drive Extreme
4K HDR Extreme
Anynet+
Extended PVR
HDCP
Light Sensor
Local Dimming
Peak Illuminator Pro
Pip
Precision Black
Triple Black
UHD Dimming
Remastering Engine
Upscaling
Ultra Clear Panel
Voice Command
Our Verdict
The Samsung NU8000 offers the latest in 4K UHD TV technology that its predecessor, the MU8000, did not have. This TV is currently being sold on Amazon for $799.99 for the 49-Inch variant.
This TV also features the latest OS of Samsung. The Tizen 4.0.
This OS aims to have a unified ecosystem amongst Samsung devices. As such, it means that you can now control the latest Samsung smart devices with the latest Samsung smartphones like the Samsung Galaxy S9.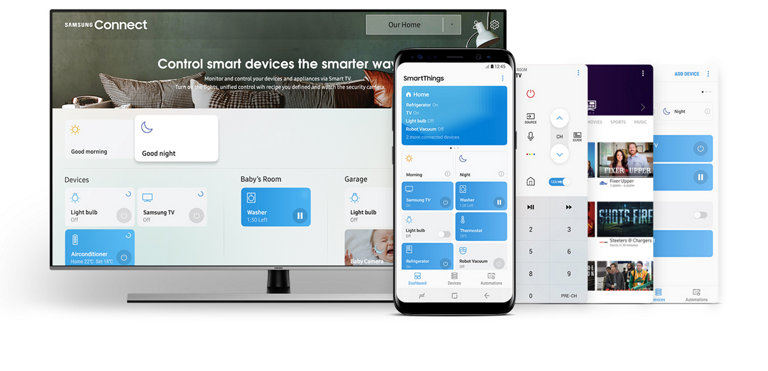 In this unified system, you can now easily sync these devices as well as get apps on your smartphone that you also want on your TV. They'll be copied into your TV's Smart Hub and you'll automatically be logged in.
Lastly, despite offering the latest in technology and having a great picture quality as well as features, the Samsung NU8000 still suffers the same issue we have seen with its predecessor. Suffering picture degradation when viewed at an angle. Additionally, it doesn't feature Samsung Quantum Dot technology which is mostly reserved for QLED TVs.
Pros
Excellent picture quality.
Bezel-less with Clean Cable Design.
HDR10+ with Dynamic Crystal Colour Technology
Cons
Boomy Audio Quality.
No Quantum Dot Technology.
Degradation of Picture Quality when viewing at an angle.