Today, we take a look at one of the cheapest UHD TV on the market, the Toshiba 43U6763DB. It has a selling price that you can surely afford. Is this TV worth considering given the price or you better expect what you should expect from a cheap UHD TV. Let's find out!
Bestsellers:
Specification
Ultra HD (4K) | 3840 x 2160
Toshiba U67 Series
42.5-Inch Display Size
10 Panel Bit Depth (8 + FRC)
Frame Rate Control
Direct-LED Backlight
VA Display Panel
60 Hz Refresh Rate
20W 2Ch Speakers
802.11b/g/n 2.4GHZ & a/n 5GHz
72% Luminance
4x HDMI™ 2.0
USB 1x USB3.0 + 2x USB2.0
Digital Tuner HD DVB-T2/C/S2
1000 Total Picture Quality Rating
Dual Core Processor
For more information, visit Toshiba.
Dimension
Picture Quality
The Toshiba 43U6763DB features a native display of 3840 x 2160 which is the standard pixel count for an Ultra HD 4K display. It also features a VA display panel paired with a Direct-LED display system. VA (Vertical Alignment) panels combine the advantages of IPS and TN panels.
VA panels have…
the advantage of higher refresh rates,
better colour reproduction,
higher maximum brightness,
better viewing angles.
VA panels also do have excellent contrast ratios. With the inclusion of DLED or Direct-LED Panel System, the black levels of this TV are dramatically improved and enhanced.
It also has an upscaling system that scales the original resolution of any video to 4K. Giving you a better and likeable viewing experience. However, don't expect miracles. Despite having an upscaling feature, a video or movie with lower resolution, lower than 1080p, is unpleasant to watch. Yes, the scale is there but the quality is not on par with videos that are 4K in content.
Lastly, despite having the basic features of a 4K UHD TV, the picture quality of this TV is by far above satisfactory. It'll make you feel like you bought something that should have been more expensive than its selling price. But heck, that is the selling point of this TV.
In terms of I/O, this TV features 4 HDMI 2.0 that allows you to feed this TV with 4K videos and are running at 60 frames per second for that smoother and fluid playback.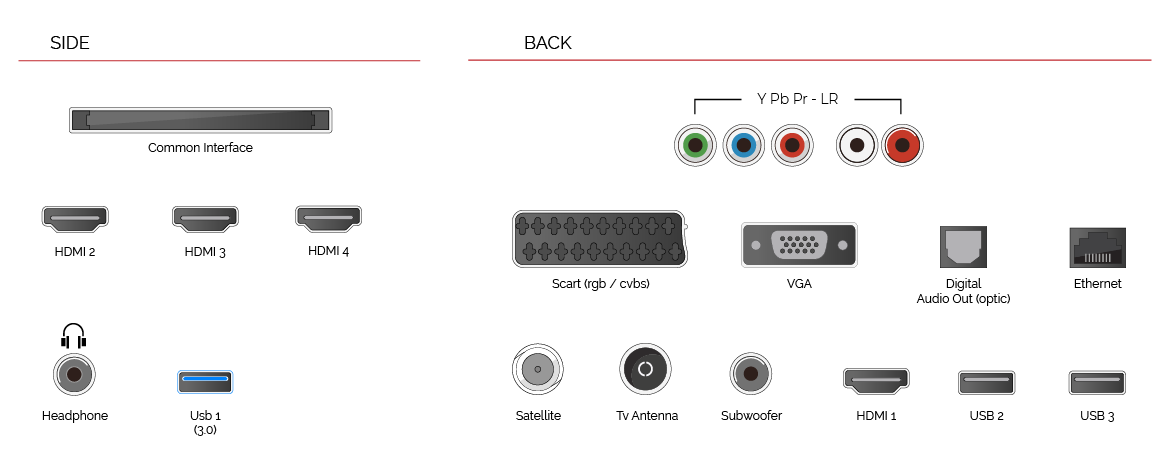 Gaming
The Toshiba 43U6763DB will be loved by gamers as a TV monitor. It has a native refresh rate of 60Hz and supports HDMI 2.0. Allowing you to enjoy your video games at 60 frames per second for that smoother gameplay. Furthermore, you can play your video games at 4K resolution running at 60 frames per second, only if your PC or Console is capable to do so.
Another worth mentioning in terms of gaming is its input lag. Our test on the Toshiba 43U6763DB shows that it has an average input lag latency of 38 ms which is not bad, to be honest. It's actually a good input lag rate despite being an entry and affordable level TV.
So if you're thinking about purchasing a good gaming TV monitor, you might want to include this TV to your top choices.
Audio
The Toshiba 43U6763DB features 2 speakers that use 20W of power. To be honest, the audio loudness and quality are above average but it is definitely weak if you're watching a movie. For casual use such as watching the news, cartoons, etc… the audio is okay. Other than that, watching live games, movies, etc… you may want to consider adding a separate audio system such as a soundbar.
Sonos Soundbar Review – https://topuptv.co.uk/sonos-sound-system-reviews/
The audio quality and loudness of this TV doesn't pack a punch and will definitely leave you wanting more from it.
Our Verdict
If you want a 4K Ultra HD TV that features a Smart system, then you should include this TV to your list of choices. You can get a 4K TV that features a VA display panel with a wide range of gamma and colour palette on Amazon, making this TV outstanding for its price. It also has a great colour accuracy but definitely not on par with high-end TVs. Heck, that's the selling point of this TV.
For gamers, you will definitely appreciate this TV although we still highly recommend gaming oriented monitors for those hardcore gamers such as the LG 25UM58-P.
Pros
Affordable Price
4K UHD VA DLED Display
Dual Band and Bluetooth
Cons
Average Audio Quality
Dual Core Instead of Quad Core
No HDR Support
Sale
Toshiba 43UL2063DB 43-Inch Smart 4K Ultra-HD LED TV with Freeview Play (2020 Model)
Toshiba's TRU picture technology provides smooth, upscaled and more detailed viewing whatever you're watching, TRU Micro Dimming improves contrast, focussing on all the different regions of the image
Watch 4K HDR content in all its glory, Dolby Vision HDR transforms your TV experience with ultravivid picture quality, when compared to a standard picture, Dolby Vision can deliver colors never before seen, highlights that are up to 40 times brighter, and blacks that are 10 times darker
Dolby Audio Processing provides an enhanced experience whatever you're watching, with richer, clearer and more powerful sound
Controlling your TV with your voice has never been easier, simply connect to either an Echo, Echo Dot or Google Home Mini device – the choice is yours
From the latest movies and trending music to your favourite boxsets, we've got it all, the top streaming apps including Netflix, YouTube, Prime Video and Freeview Play built in as standard up to date and ready to go